Energy-saving rice husk press machine Supplier
Energy-saving rice husk press machine Supplier
2019-12-05 04:11:00
czqwjb009

Original

456
Summary :Energy-saving rice husk press machine are used to convert powdery material into rod-shaped products under high pressure and temperature. This equipment has some requirements for the raw material. Firstly, the diameter of the raw material should be shorter than 10mm. Secondly, the moisture content of the raw material should lower than 12%. After the forming process in the biomass briquetting machine, the formed hollow rods will be put into a carbonation furnace.
The Energy-saving rice husk press machine is used in charcoal production lines. In general, the whole production line consists of a crusher machine, a drying machine, a briquette machine, a carbonation furnace and some auxiliary equipment. The finished charcoal products are of high density and good flammability.
Energy-savingrice husk press machine of EP Machinery company are high-efficiency and high-quality equipment. Our briquetting equipment can process materials including rice hull, hay, shrubs branches, wood refuse, bamboo refuse and bamboo dust, sugarcane bagasse and so on.
The structure of Energy-savingrice husk press machine is simple. This equipment consists of five parts: frame part, driving part, feeding port, pressing part and conveying part. Our briquette machines are easy to be operated and maintained.
The machines' stability and durability is pretty high. It is very important to lubricate the equipment regularly. As long as there is no lack of oil in the joints of the machine, the rice husk press machine can be used for many years.
Energy-saving rice husk press machine Supplier adopt v-belt drive which can make the machine work smoothly. In addition, v-belt drive can also act as overload protection device. Moreover, there are two connection modes of the machine head and the cylinder body: insert connection and bolted connection. And you can choose the best connection mode according actual situation.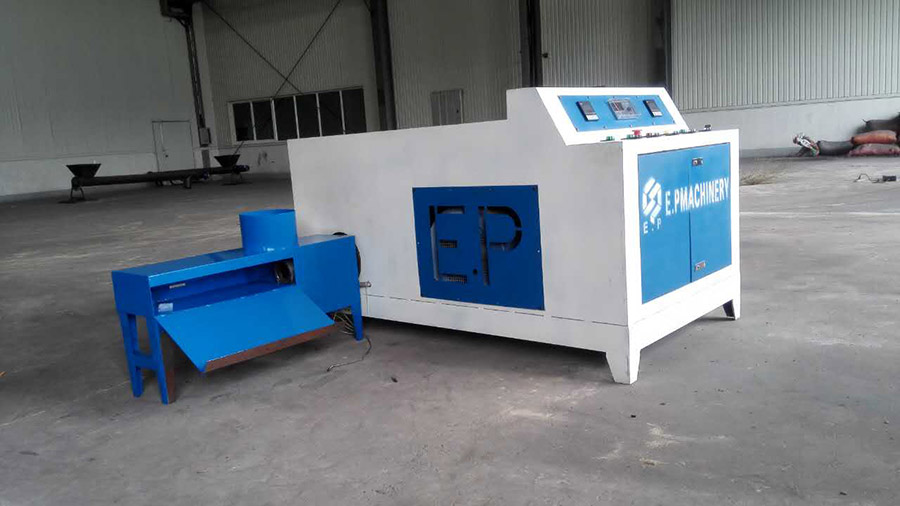 At the beginning, the raw materials will be crushed into small pieces. If the moisture content of the raw materials is high, then they need to be dried. After the drying process, it comes to the core procedure of the production line: briquetting. After the raw materials are made into briquettes by Energy-savingrice husk press machineSupplier, you can choose to put them into a carbonation furnace to make charcoal briquettes or pack them directly. In general, many people choose to conduct the carbonizing process because charcoal briquettes value more than "raw briquettes" that don't go through the carbonizing process.
The charcoal sticks made by Energy-saving rice husk press machine Supplier are widely used. For instance, charcoal briquettes can be used for heating in winter in the northern area. What's more, you can use them to warm greenhouses when it is cold. In addition, you can also use those briquettes as fuel to cook.
Biomass energy has good ecological and social benefits. First of all, using biomass briquettes which are made by Energy-savingrice husk press machine as fuel will protect the environment. Secondly, it will promote continuous development in agriculture.
The salesmen of EP Machinery are all very experienced. They can give your best advice and customize best equipment for you according to your requirements. In addition, Energy-savingrice husk press machine you purchase will be checked thoroughly before delivery.
It is common that pilot run should be done before the rice husk press machine is put into use. Biomass briquette equipment is no exception. It should idle without any load for about 3 minutes at the beginning. If everything goes smoothly, you can add some material into the feeding port.