High Output sawdust charcoal machine Made in China
High Output sawdust charcoal machine Made in China
2019-10-23 14:56:00
czqwjb009

Original

66
Summary :Our High Output sawdust charcoal machine are high-quality equipment. You can use this machine to make charcoal rods that are hollow. Generally, the diameter of the rods are about 50-60 mm long, and the diameter of the hollow part is about 15-20mm. What's more, the briquetting machines can produce cuboid-shaped and six-sided cylindrical hollow briquettes. If you want to make charcoal products of other shapes, we can customize molds for you.
The High Output sawdust charcoal machine are high-efficiency and energy-saving equipment. Nowadays, people are paying more and more attention to environment protection. And biomass briquetting machines can turn some plant wastes into useful charcoal, which will protect environment indirectly. Therefore, biomass briquette machines play an important role in this field.
High Output sawdust charcoal machine Made in China are able to make use of many different biomass wastes. Apart from this source of raw material, you can also plant some "energy plants" that contains a lot of lignin on unfertile farmland. Then you can take these energy plants as raw material for briquetting.
The structure of High Output sawdust charcoal machine is simple. This equipment consists of five parts: frame part, driving part, feeding port, pressing part and conveying part. Our briquette machines are easy to be operated and maintained.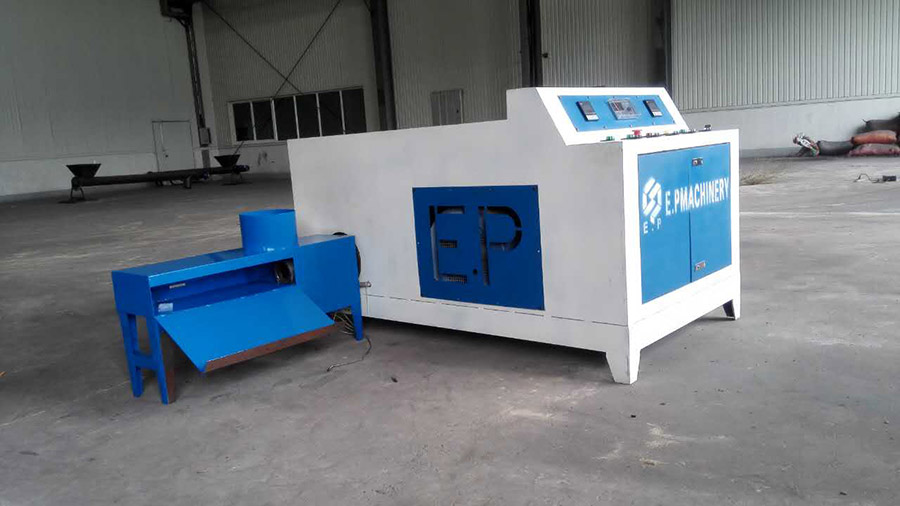 The core part of the High Outputsawdust charcoal machine is the screw propeller, which is made of ultratek and tungsten carbide. Hence, its service life is longer. What's more, it can operate continuously for 40 to 60 hours. If you maintain it at regular intervals, you can use it for a long time.
High Output sawdust charcoal machine Made in China adopt v-belt drive which can make the machine work smoothly. In addition, v-belt drive can also act as overload protection device. Moreover, there are two connection modes of the machine head and the cylinder body: insert connection and bolted connection. And you can choose the best connection mode according actual situation.
Biomass raw material such as wood branches, bamboo dust and crop stalks need to go through four steps to be finished charcoal products. The four processing steps are crushing process, drying process, briquetting process(High Output sawdust charcoal machine and carbonizing process.
The charcoal briquetting rods made by High Output sawdust charcoal machine Made in China are used usually for outdoor barbecue. According to the characters and features of charcoal briquettes, we can also use this fuel in metallurgical industry, chemical industry, food industry, building industry, ceramic industry and stock farming.
Biomass fuel's development can restrain the price of crude oil in the international market. Biomass charcoal briquettes made by sawdust charcoal machine Made in China can take place of the traditional fossil energy such as coal and oil. Thus, the country's import volume of oil will decrease. And the amount of carbon dioxide emitted in air by human activity will be reduced.
We have a lot of experience in doing business with foreigners who come from all over the world. Our company's aim is to supply high-class sawdust charcoal machineMade in China and production lines to our clients. We are looking forward to establishing partnership with you.
It is common that pilot run should be done before the sawdust charcoal machine is put into use. Biomass briquette equipment is no exception. It should idle without any load for about 3 minutes at the beginning. If everything goes smoothly, you can add some material into the feeding port.